Public Health Agency of Canada
Tele-Health Ontario (1-866-797-0000)
In times of community crisis, it's completely normal to need mental health support. Call or visit:
An internet-based cognitive behavioral therapy; helping you understand and change the thoughts, feelings and behaviors that are causing you problems.
Big White Wall: an anonymous online community where members can support each other 24 hours a day, 365 days a year.
A free skill-building program; With the guidance of a coach, you'll work through a series of workbooks at your own schedule, to gain practical skills to better manage low mood, anxiety, worry or stress. You'll learn things like how to improve your mood by changing the way you think or respond to things.
Canadian Association for Mental Health (CAMH)
Children's Mental Health of Leeds & Grenville (613) 498-4844
Extended hours, Telephone appointments, Call-in Sessions
Lanark, Leeds & Grenville Mental Health and Addictions Toll Free: 1-866-499-8445
Guided digital therapy with BEACON is personalized, and you receive support from a registered therapist that's always one-to-one. It's therapy that's completely digital, so it's available when you are and you never need to worry about keeping appointments. Everything happens on your terms privately and securely; provides Cognitive Behavioural Therapy, a clinically-proven method that's all about building stronger resiliency through learning new skills to manage your thoughts and feelings.
613-692-9992 (Ottawa area), 1-855-892-9992 (outside of the Ottawa area)
A Friendly Voice is a program funded by the Trillium Foundation for anyone over the age of 55 to call and chat with someone. It is run by trained volunteers.
Upper Canada District School Board
Information on the school re-opening plan, as well as resources for families.
For More Physical and Mental Health Resources, visit:
YMCA of Eastern Ontario
The YMCA of Eastern Ontario, along with other YMCAs across Canada, has launched free online programming and workouts through a new digital platform: YMCA at Home. Although we are closed, we remain committed to our communities. YMCA at Home will help everyone to stay healthy and connected from the comfort of their homes.
YMCA at Home features Y programs and workouts from YMCAs all over Canada and will help everyone get their daily dose of their favourite Y programs. New activities are being added regularly. There is also a "Wellness" category that will address things like how to deal with isolation and anxiety.
They can learn more about YMCA at Home by visiting www.ymcahome.ca
YMCA of Eastern Ontario is dedicated to the growth of all persons in spirit, mind and body with a sense of responsibility to each other and the global community.
Also we have programs available on our local social media pages every day at 9:00am, 1:00pm, 7:00pm.
For food access services, visit:
Food Banks for Leeds, Grenville and Lanark County - Full Listing
The Volunteer Centre of St. Lawrence-Rideau has volunteers available to deliver food and essential items to residents of Brockville and some areas of Leeds and Grenville who cannot leave their home due to Covid-19 related issues.
This does not include medications which should be delivered directly by the pharmacy. Clients must prepay all items and arrange for curbside pick-up and porch/front door delivery. Notice of at least 48 hours is preferred..
Clients place the order and prepay then contact the Volunteer Centre with details of order. Contact at info@volunteercentre.ca or 613-499-9393 ext. 20
If a client lives in an apt. building they (or someone designated) must be able to meet the volunteer at the front door. Please wear a mask or face covering.
Volunteers do not handle any cash or financial transactions.
If you are interested to volunteer for the Covid-19 response team please contact the Volunteer Centre.
For more community resources and support services, visit:
Advocacy Centre for the Elderly
Book Bundles and Home Outreach delivery services are available for stay at home parents and caregivers.
Book Bundles
Customers can request a curated book bag or bundle of books (and/or talking books or dvds) to pick up at the Library. We can help with ideas for something new for parents or baby to read, including books, magazines, baby board books, picture books, or books about specific topics.
Customers will tell us what they are interested in reading about and we will select some items for them. When their books are ready to go, we will notify them for pickup.
Home Outreach Delivery
Brockville Public Library, in partnership with the Volunteer Centre of St. Lawrence Rideau, will deliver resources to customer's homes or places of residence when they are unable to visit the Library.
We will select books and materials based on reading and learning preferences, check them out to the customer's Library card, and then a volunteer will deliver to their home on the second Tuesday every month. The volunteer will also pick up their books from the previous month and return them to the Library.
Mental Health Supports and Drawing Classes
Domestic Abuse/Dating Violence
Employment + Education Centre is supporting/assisting all people who need help with Employment Insurance applications or related documents.
Please contact us by email: cecilia@eecentre.com Or call us at 613-498-2111
Links to services and resources for children, youth and parents can be found on the Every Kid in our Communities website.
The site will be updated regularly.
Family & Children's Services of Lanark, Leeds, & Grenville (FCSLLG)
1-855-667-2726 or by email to FirstContactTeam@fcsllg.ca
Effective Tuesday Mar 17th
-Our Agency doors will be closed to the general public and clients at all locations until further notice. Regular business practices (such as Canada Post and deliveries) will occur as normal.
-Agency staff will be working and you can still reach us by phone at
-We will continue to respond to child safety issues and will continue to have client contact.
-Group access and regular access visits will be discontinued until further notice.
-All volunteer drives and activities will be discontinued until further notice.
-We are postponing all Agency training events; and any meetings that are scheduled for "in-person" will be completed by teleconference.
Family Court Support Information
Government of Canada COVID supports & services
Government of Ontario Business Resources
The Government of Ontario announced support for business corporations, not-for-profit corporations, insurers, and share capital social clubs by implementing an Emergency Order to provide flexibility for corporate meetings.
This emergency order applies to not-for-profit corporations incorporated under the Ontario Corporations Act (CA) and gives them the ability to hold virtual meetings; as well as extends the timeframe for AGMs to be held.
Please review via the following links:
Support for students and parents
Leeds & Grenville Business Resources & Updates
Renters Information
Affected by COVID-19 and not sure how you will pay April's rent? You have rights. Check out this graphic below. (Info Source: http://TorontoTenants.org)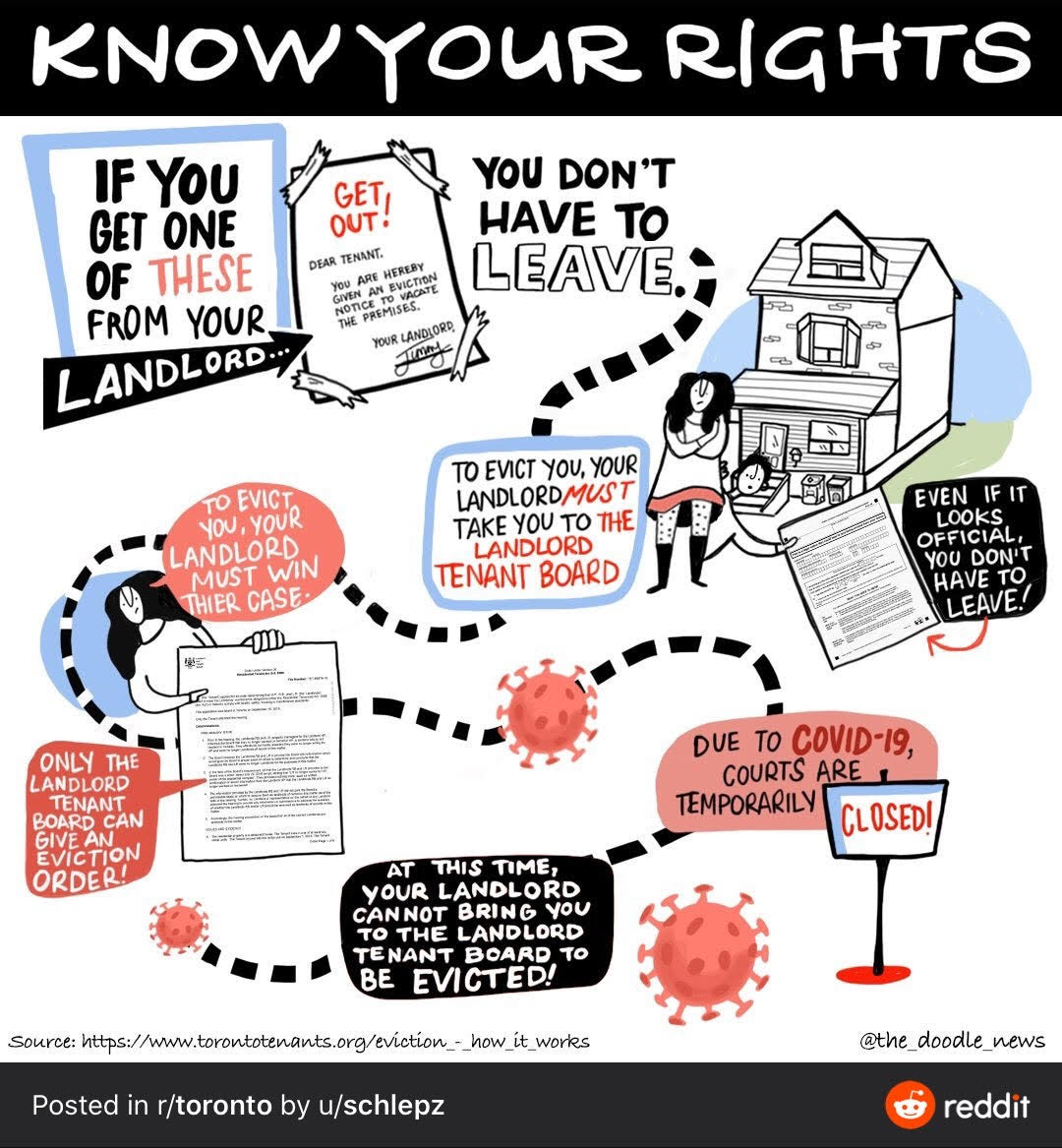 Seniors' Community Services. (613) 258-3203
https://vslg.ca/seniors-elder-abuse-2.php
Senior Support Services (CPHC) (613) 342-4076
Frozen meal delivery, Hot meal delivery, Medication pick up, Transport to urgent medical appointments, Wellness Calls to friends and family, Bring care bags of food
Sexual Assault/Abuse Help and Resources
Talking to children about the pandemic - a resource for parents/caregivers/guardians
Teen Resources (via Victim Services of Leeds and Grenville)
The Employment + Education Centre
has created a L&G Community Heroes #yoursacrificematters FaceBook page to celebrate all our local community heroes to show our appreciation.
Please send in your pictures, videos, comments and gratitude statements: https://www.facebook.com/groups/169418077411671/
Trauma Information and Resources
Victim Services of Leeds and Grenville 1-800-939-7682
Volunteering with Victim Services of Leeds and Grenville
YMCA of Eastern Ontario 613-342-7961
Municipal Services: If you need support from city services, call:
Get help: If you are experiencing a crisis, call:
211 (call 2-1-1)
Community, social, government and health services
911 (call 9-1-1)
Police, fire and ambulance
KIDS Help Phone at 1-800-668-6868
Mental Health & Addictions Crisis Line Toll-free: 1-866-281-2911